At this time of year rather than making New Year resolutions, I tend to look back over my achievements of the past year, then do a post of aspirations and plans for the next. This year I'm doing my look back a bit early as I plan to be off the internet for the whole of the school holidays (19th Dec-4th January).
At the start of this year, my plans were: to spend January reading and researching marketing, updating social media, editing
Keir
, and taking a step back from the work I did for the SFR Brigade. That last is the hardest. I love the Brigade and enjoyed being so active in it, but I'd started to feel perhaps I was devoting a bit too much time to it at the expense of my writing...and what little sanity I had left. Over the last few months I'd experienced the same sort of burn out I normally only get with NaNoWriMo, although some of that is blog post and book tour burn out too.
I also planned to try clearing the rather frightening backlist of reading on my Kindle (340+ books). February and March I had print books of former eBooks releasing (
Restless In Peaceville
and
Tethered
), and
Zombie Girl
(a post apocalyptic short) was due for release in April. Spacefreighters was looking forward to Laurie's debut release in January and the reveal of
Keir
's shiny new cover on my third anniversary here at the Lounge, plus a triple shot of Spacefreighter releases in February including Donna's debut, the start of Laurie's SFR series, and the release of Sharon's
Echo 8
.
Keir
was due for re-release on what would have been his third book anniversary - 7th May, 2015.
With new releases, print releases, and a re-release due, I wasn't expecting much time to write (though I had planned to do all three NaNoWriMos). The two Camp versions (April and July) would be for part two and three of
Zombie Girl
, with part one due out in April. I thought I'd be touring the first half of the year. Oh, how that changed!
So, what actually happened this year? Well, this year mostly turned out to be the year of re-releases, overdue sequels, and a focus on real life over publishing life. It saw my decision to finally go totally self published after the third of my four publishers in two years closed, saw very few new words, but a few new shiny things. But for detail:
When Dark Falls
was a Top Ten Finisher in Steampunk at the Preditors and Editors Readers' Favorite poll. It also came 3rd in the RWA JABBIC cover contest in the SF/F/PNR category.
Restless In Peaceville
, my weird little zombie novella, got an Honourable Mention for Best YA/NA in the LRC awards.
My main publishers (Breathless Press and Lycaon Press) closed on the 1st of May. I'd officially been with them just 14 months and released three novellas and two short stories with them (the most work I'd ever had with a single publisher). I've now re-released four of those works myself.
In May, I re-released my debut novel
Keir
, along with my four former BP/LP titles, meaning I put five works out in the space of a month (slightly more than one a week). Never again!
Keir
went on to outsell what it had done while with my publisher, and is still my best seller, though it's no longer hitting the top 100 bestselling Time Travel titles at Amazon as it did several times during May and June.
I spent the majority of the summer holidays (seven weeks) OFFLINE! I managed to read over 20 titles languishing on my Kindle, and wrote reviews for them and several other books that I'd read but not reviewed previously. I also closed my blog and gave it an overhaul, including consolidating my 'branding' with new banners for my social media.
I turned 44, a year older than my mum who passed away age 43. The same week my eldest officially became a teenager.
I took the big decision to step down from captaincy of the SFR Brigade after failing to scale down the time I spent doing stuff there. It was heartbreaking, but personal events later in the year proved to me it had been the right thing to do in the circumstances.
My novella length SciFi romance (working title
Revived
and my second story in the shared
Venus Ascendant
universe) became a finalist in the LERA 2015 Rebecca contest, finishing in second place. My third time of entering and my first final.
I had two of my covers place as finalists in the EPIC 2016 Ariana eBook Cover contest (
Keir
by Danielle Fine in Fantasy/Paranormal, and
When Dark Falls
by Victoria Miller in the Scifi/Futuristic category).
I edited words and wrote new words, though the majority of that was in the form of new short stories and new material during edits. That totaled 60K, but my edits hit 246K (not including the fact most required three rounds minimum, making that 738000 words of editing).
I released just one new novel this year (late!), while re-releasing one novel (
Keir
), three novellas (
When Dark Falls
,
Tethered
, and
Restless in Peaceville
), and one short (
No Angel
). I'm waiting to hear if one of my new shorts has been accepted into an anthology.
Keir
also released in print in June, with
When Dark Falls
releasing in print in September.
I finally - FINALLY - released
Keir's Fall
, the overdue sequel to
Keir
, on the 7th December - one month later than planned. But it's done, it's out, and after I clear a few shorter projects I'll be moving onto book three of the series (psst, the opening to book three is featured in the back of book two).
All in all it was a very different year than expected. Despite the seemingly huge disaster of losing yet another and my main publisher, I picked back up and moved on. Before the summer it all caught up with me, and as well as reading I spent the summer debating my publishing 'career' and what I'd do next. Personal issues dictated the writing might need to take a lesser role in my life. However, my plans to go back to a full time job that isn't writing (and that pays a living wage) have now temporarily gone on hold. I have twelve titles live, and I will carry on writing. Publishing may not necessarily follow, but there are things coming. Check out my next post on the 5th of January 2016 for news.
Happenings
Today fellow Brit Tim Peake launches to visit the International Space Station. Woot! I'll be watching it live (and with fingers crossed that all goes well). Read more about it here -
https://t.co/IgTfIPkHxc
I'm off to see
The Force Awakens
on the 17th!! Eeep! I'm excited as much as petrified bearing in mind various theories that have arisen over Luke's absence in the film poster. Is he Kylo Ren? Is he Ren's Sith master? I really hope not. There's an eight year old me who still has starry eyes over and a crush on Luke Skywalker, and her heart will be broken if he's gone to the Dark Side. We shall see... I'll be doing a spoiler free post at my own
blog
as part of my last post for the year.
Keir
will only be 99 cents/Euros/pence for a few more days (until the end of December).
There's also a Goodreads giveaway for a print edition open until the 7th January (so that all the Christmas post is cleared before I try sending it out to the winner!).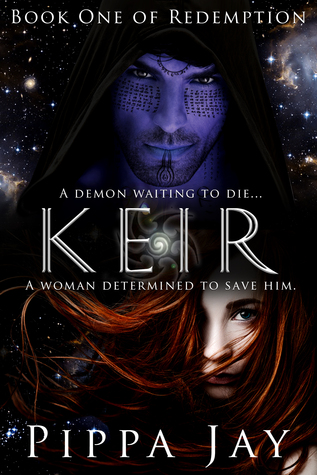 Enter Giveaway
This is Pippa Jay signing off. Merry Christmas, May the Force be with you, and have an excellent New Year. Be awesome to one another.